New port for Oceania Insignia cruise ship
                                                                                               Oceania Insignia: 
                                                                                           Home-port of New York
Oceania Cruise line have announced that they will be offering new sailings from the summer 2017 into the fall of 2018 from the  ( Home-port of New York ) Once re-positioned from her sailing around Iceland she then will going up into Canada & New England late July
No Surprise Though, it will also take in the Caribbean in the winter of 2017 to arrive back in to New York for the summer of 2018 and repeat the cruises to Canada & New England
Insignia is a smaller ship within the fleet with capacity of 684 with a more inter mate feel for the passengers.
                                                                                     Quick overview of Insignia:
                                                                                                  Built 1998
                                                                                          Refurbished 2014 
                                                                                            Passengers 684
                                                                                    342 Luxurious  staterooms
Cabins on board:                                                                                    
Inside 160 sq Footage: 
All new and renovated, with a great style and flair includes you Mini bar, great storage space, seating area, comfortable sitting space, and of course the prestige tranquility beds.
24 Hour room service & pull down service every night with chocolates included!
Flat  screen television
Bath robes & slippers
Hairdryer
Plus lots more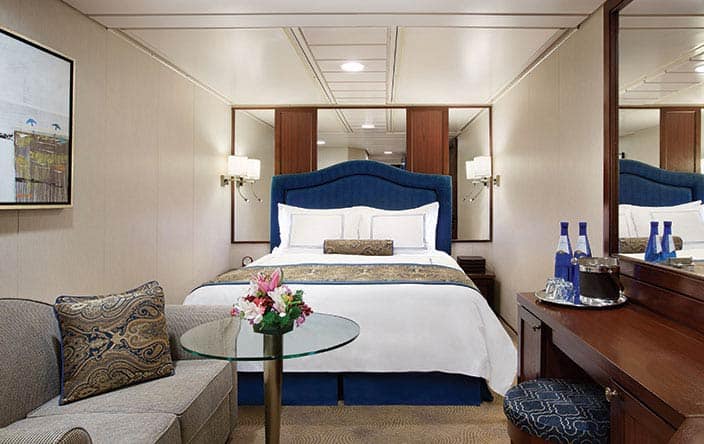 Deluxe  outside cabin 165 sq footage:
Cabins outside do range dependent on which deck you choose and grade with picture window or to port holes. Included is mini bar, sitting area, prestige beds, storage.
Concierge 216-square-foot:  Free internet, priority embarkation & luggage delivery
Penthouse Suite 322-square-foot: Butler  service 24 hrs, priority board, internet, complimentary package's for the cabin grade:
Vista Suites: All of the above.
Owners suites's 1,000 square feet:  Simply out of this world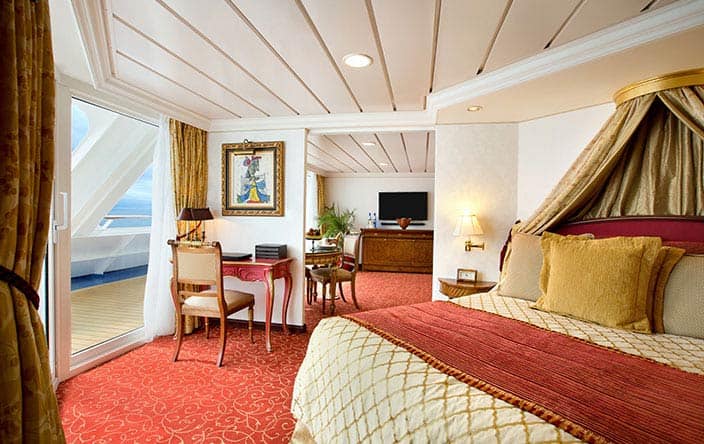 Dining life & Venues on board:
With the broad spectrum of dining  venues on board for the 684 passengers and having been Voted by Cruise critic the best ( luxury cruise line)   So i am  sure you would not be disappointed: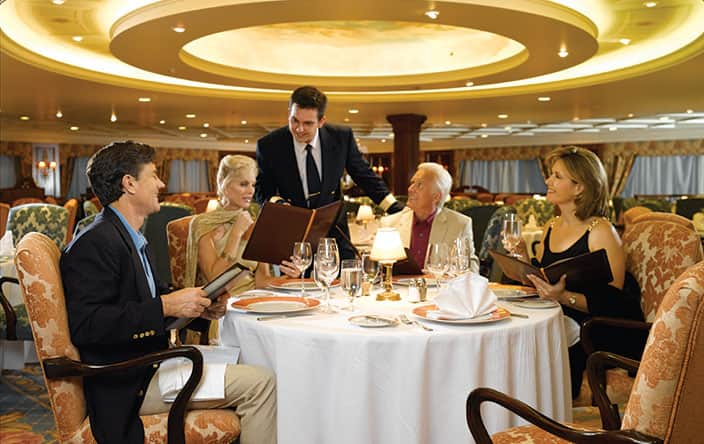 Grand Dining room:
Breakfast, lunch, Dinner waiter service throughout your cruise.
Polo Grill: 
Dinner only Classic steakhouse & fish dishes Reservations Required
Toscana: 
Italian menu's traditional to the new Reservations Required
Terrace cafe:  
Breakfast, lunch, Dinner Alfresco options for this & in the evening comes to life with a different atmosphere when you can choose from a lamb, Lobster, Sushi, Sashimi.
Waves grill:
Breakfast & Lunch more casual dine from the Burger you crave to a fresh salad set around the pool area so once you have done laps in the pool then its food all the way.
Afternoon Tea: 
Daily in the Horizons 4 o'clock traditional service with a string quartet to entertain you.
Baristas: 
Coffer shop open until early evening where you can catch up with friends and tell them off your cruise so fare.
Room Service: 
24 Hours daily.
                                                                                Entertainment on board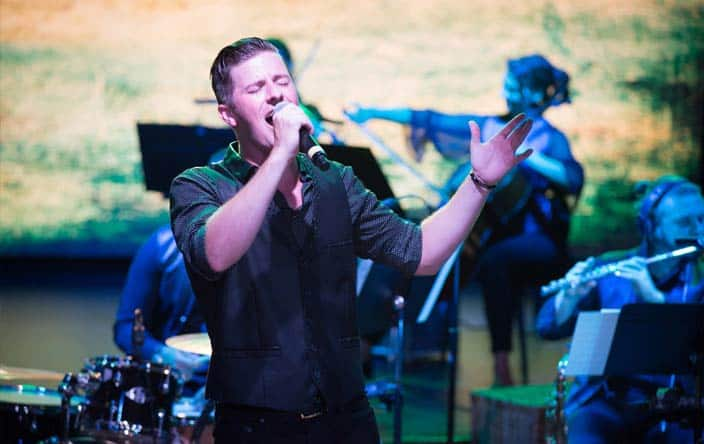 Its never a dull moment with the entertainment encompassing different shows from all around the world again dependent on the region at the time.
Begin with a cocktail or two, catching up with you fellow passengers and listening to the Piano player or a the string quartet, after dinner take in one of the many shows on offer
4 on the Floor:  with its name you can guess the stars are all band of fours from the four seasons, Abba, Mamas & papas, Fab four ( Beatles).
Tuxedo: 
If you love Sinatra, Dean martin, Sammie Davies Junior, Tony Bennett and the greats so this would be right up your street.
Good Lovin: 
Nothing like a great sound of soul from the greats again so get them dancing shoes on and take in the sounds of the 1960's
Horizons: 
Turns into your Night club so when you fancy a trip around the dance floor after your day then this is the place to be seen, with hits from the past showing your friends them endless moves.
Canyon Ranch Spa Club: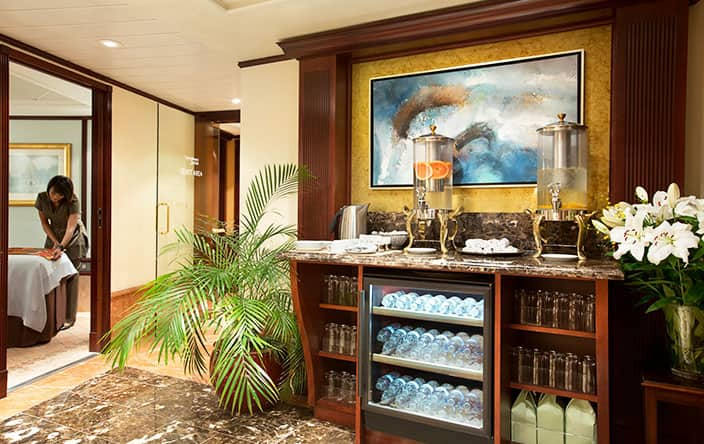 Canyon ranch has been winning awards since 1975 with the resorts they have around the USA
There is no surprise after all that dancing the nights away & taking in your beautiful surroundings its maybe time to take yourself of and relax and get that Thai Massage you have always promised your self .
All Concierge Level and Suite guests enjoy FREE unlimited access to the beautifully appointed Canyon Ranch Spa Club private Spa Terrace.
So is Canada & New England or Caribbean your next cruise option on a smaller cruise ship? Then this would be ideal for you.
Did you know here at Cruise Club UK we have a Loyalty Bonus Scheme. Book your chosen cabin type and you can receive up to 50 Bonus Points (1 Point = £1). That's a saving of up to £50 off your next cruise booked with us.  
Email or call me to discuss your dream cruise: olive@cruiseclubuk.com 0161 798 2546
Looking for luxury cruise travel? Why not visit our exclusive web page, featuring news and information for your forthcoming six star cruise holiday!
http://www.cruiseclubuk.com/Home-Page_Luxury.phtml
Never booked with Cruise Club UK or Prestige Cruise Club before? Don't worry all new customers Receive…
Dedicated direct phone number to your personal Cruise Consultant
(UK Based call center & Cruise Expert)
Exclusive offers you can't find anywhere else
An industry leading loyalty scheme called Bonus Points
We Include the following on the Majority Of Our Offers
Full Return Flights

Transfers
Baggage
All Taxes
Full ABTA, ATOL and a further Cruise Protection

Regular personal emails full of special deals
Interactive website & Blog full of latest offers, cruise news / blog and reviews.
All this and no extra charge! The reason we are a 'Club' is thanks to our loyal and regular customers.
Mention the word Club and it's 'how much is that going to cost me?'
Here at Prestige Cruise Club once you have booked with us you're a member, the best part being its FREE we don't charge a penny & 1st time bookers will automatically be entered into our industry leading Loyalty Scheme Bonus Points. It's our way of saying thank you (1 point = £1) and a nice saving for you*